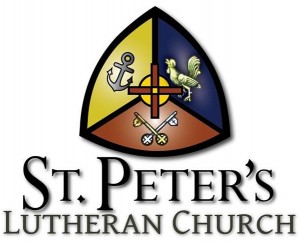 Thanks to Rev. John Fraiser of Holy Trinity Lutheran Church in LaGrange, KY for our artwork to represent St. Peter's. The artwork was done in particularly from our St. Peter's window which overlooks the sanctuary from the balcony. The colors and items are all from our windows. The blues of course predominate our sanctuary, the red matches Jesus' robe near His pierced hand in the back window as well as the reds that outline much of the side windows, the yellow matches St. Peter's cloak in the back window.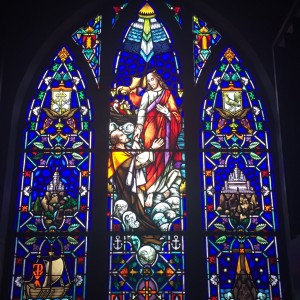 The anchor is the traditional symbol in ancient Christian iconography that represents Jesus being the solid ground within the boat. It has it's depictions in the thought of a boat, the boat in which Peter walked out on and yet it was Christ who lifted him and kept him afloat to be placed into the boat. And from Hebrews 6:19: "We have this hope as an anchor for the soul, firm and secure."
The cock crowing is also directly to St. Peter. It brings forth that point in time in which Peter denied our Lord three times. Christians kept the symbol though as a reminder of the grace given to Peter. There is also a positive aspect. Peter was reminded of his sin. As the rooster crows in the morning hours, the symbol has served as a reminder of the dawn of the new day of restoration and grace and that we live ever watchful that we not deny Christ but boldly proclaim Him as Lord. This particular rooster is taken from our back window on the top right.
The keys are in the window and also match the marbling in the floor in front of the altar. Again with Peter, the keys were given as he confessed Christ, keys were given to the disciples with the authority to unlock heaven specifically which means to forgive sin. These keys were taken from the top left in the back window.
The shield and lines which form the shield are the traditional symbol used to confess the Trinity in connection with the council which formed the Nicene and Athanasian Creed.
At the center of it all is the cross through which God gives us grace, forgiveness, death, and resurrection. The red matching the piercing of Jesus' hand.