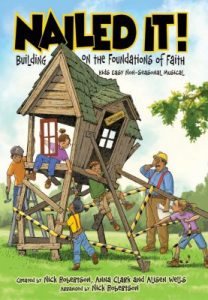 Register here!
Children, youth, and adults ages 5 and up are invited to join us for a week of music and drama daycamp. We will be learning Nailed It! Based on the wise man who built his house upon the rock and the foolish man who built his house upon the sand. (Volunteers for staging, costumes, and audio/visual will also be needed.)
Monday through Friday, June 25-29, we will meet from 9am-11:30am singing upbeat songs, learning some drama, learning about and making props and sets.
We will have the presentation of the production Sunday, July 1st as our 10:30am service. Presentation is 20-25 minutes.
Please remember that for those with speaking parts, attendance will be required Sunday, and all are encouraged as we sing, and present Nailed It! We will also have a cookout afterward Sunday at noon!