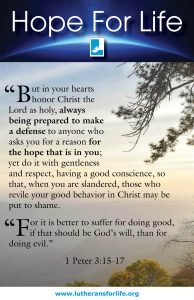 God's gift of life is to be treasured. Life is the hope that God gives us here now and we rejoice in the hope to come in the resurrection. This service will be based on materials from Lutherans For Life with the theme: Hope For Life!
We will also have a special door offering to support Lutherans For Life or you may donate online here.
Join us for this service that proclaims life as God's gift of hope, hope for those who've had an abortion, and hope for our nation and society as we mourn the over 60 million lives ended tragically.
Our hymns for the service will also be selected by the congregation for the day. All will have chance to place hymn requests in a basket before each service and hymns will be selected by random draw.